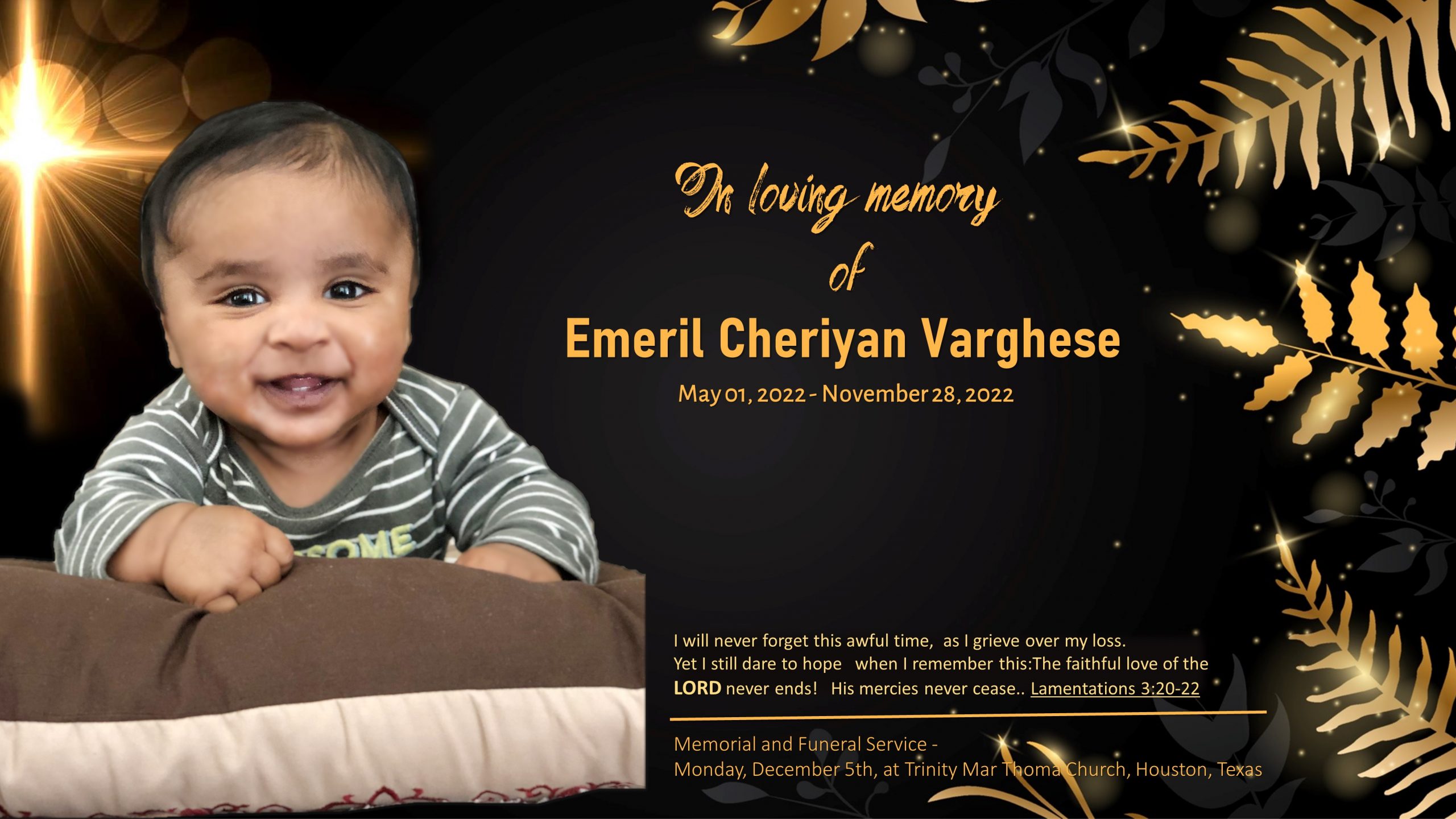 Emeril Cheriyan Varghese
It is with deepest sorrow and profound grief that we share that Baby Emeril Cheriyan Varghese (7 months), from the Alief and Sugar Land prayer group, was called to be with the Lord, on Monday, November 28th.
The memorial and funeral service will be held on Monday, December 5th, at 10:00 AM, at Trinity Mar Thoma Church (5810 Almeda Genoa Road, Houston, Texas 77048).
Interment will be held at South Park Funeral Home and Cemetery (1310 N. Main Street, Pearland, Texas 77581) following the funeral service.
"My soul is weary with sorrow; strengthen me according to your word."  Psalm 119:28
Please keep Nishant, Anitha, Ephraim, Raju Uncle, Nirmala Aunty, Sally Aunty, Nisha & Family, and Smitha & Family in your prayers.
Sincerely,
Reji George
TMC Secretary  
Phone: 713-806-6751
Email: secretary@trinitymtc.org
Sat, Dec 03, 06:25 PM
Emeril Cheriyan Varghese
Dear all,
Greetings in the name of our Lord and Savior Jesus Christ.
A prayer meeting is arranged at the residence of Mr.Varghese K.Chacko (Nishant & Anitha's Parents) on tomorrow ,1st December 2022, at 6:00 pm.
Address:
1823,Hickory Hill Court,Sugarland,TX 77478.
Your prayerful participation is requested.
Rev. Sam K. Easow
Vicar
Trinity Mar Thoma Church, Houston
832.898.8699
Wed, Nov 30, 10:20 PM
Emeril Cheriyan Varghese
---
Dear all,

With profound sorrow I inform you that our member Emeril Cheriyan Varghese(7 Months old), S/o Nishant and Anitha Varghese (ID#529 ,Alief and Sugarland Prayer Group) went to be with  Heavenly Father today morning.

Please uphold the family members in our prayers.

Funeral details will be informed later.


Rev. Sam K. Easow

Vicar

Trinity Mar Thoma Church, Houston

832.898.8699

vicar@trinitymtc.org
---