Asst. Vicar's Message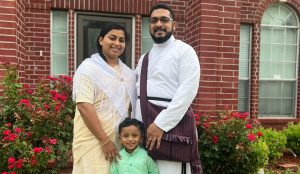 Dear Trinity Family,
Almighty God has guided us into the month of February. We had to face some struggles due to increases in Covid-19 cases, but God has been so gracious once again. He has safeguarded us in His arms and provided us health, wealth, and
peace. Once again, we have opened the church without registration and are starting in-person Sunday School classes. We have Holy Qurbana Service on Fridays to provide an opportunity for seniors to come to church in a smaller gathering. We do have English Divine Service on 1st & 3rd Sundays and have arranged various prayer meetings via Zoom. I encourage you all to actively take part in all these Worship Services.
As you all know, we are slowly but steadily moving forward with our Church Expansion Project fund collection. We will be sending you a pledge form soon and I would like you to kindly reply to that email with a positive response by
making your pledge. This dream can only be fulfilled if all of us work together and contribute whole heartedly.
We are having the Annual General Body of our church and our Church Organizations this month. I request you to actively participate in the meetings and discussions. A church can only grow if we have proper participation and discussions amongst ourselves. So kindly set apart time to attend these meetings. I pray that all the new Committees will  work effectively and focus on excellent and dedicated work.
We need to find options to have more in-person meetings in the coming months to ensure that we are further strengthening the fellowship amongst us. Zoom is a temporary option forced upon us because of the pandemic. But we need to regain the enthusiasm that we experienced through in-person fellowship & collective participation in various church activities.
I am so thankful to you for your prayers and support. Amidst my limitations, I am trying my best to make myself available to engage in all Trinity activities.
Hoping for a wonderful month ahead. Let us come together to church and experience God in the true spirit.
With Prayers,