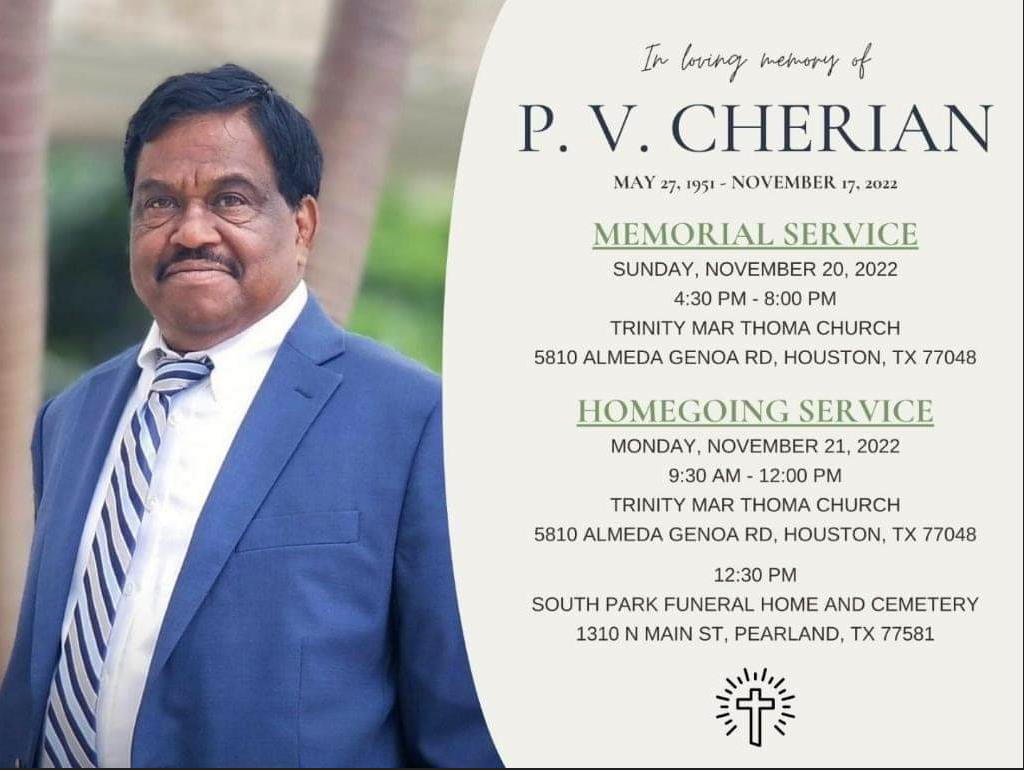 Wake/Viewing & Funeral Service arrangements for P. V.
Cherian
uncle:
Wake/Memorial Service will be held at Trinity Mar Thoma Church (5810 Almeda Genoa Road, Houston, Texas 77048) on Sunday, November 20, at 4:30 PM CST.  This will be followed by the first part of the Funeral Service at 7:30 PM.
Funeral Service (Part 2) is scheduled for Monday, November 21, at 9:30 AM CST, at Trinity Mar Thoma Church, followed by interment at South Park Funeral Home located at 1310 N Main Street, Pearland, Texas 77581.
Please continue to pray for Sobhi Aunty, Ginu, Tinu, Linta, Swapna, Ashel, Abel, Eva, Liam, Tony K. Varghese Uncle and Family, Achamma Thomas Aunty (P. K. Thomas Uncle) and Family,  & Josh P. Kurian and Family.
Thank you,
Reji George
TMC Secretary
713-806-6751
---
Nov 17, 2022, 7:08 AM
Dear all,
With profound sorrow I inform you that,Mr.P.V.Cherian (71 Years, ID#269,  member of Missouri City & Stafford area Prayer Group) received the heavenly call today.
Funeral details will be informed later.
Please uphold the family in our prayers.
Rev. Sam K. Easow
Vicar
Trinity Mar Thoma Church, Houston
832.898.8699