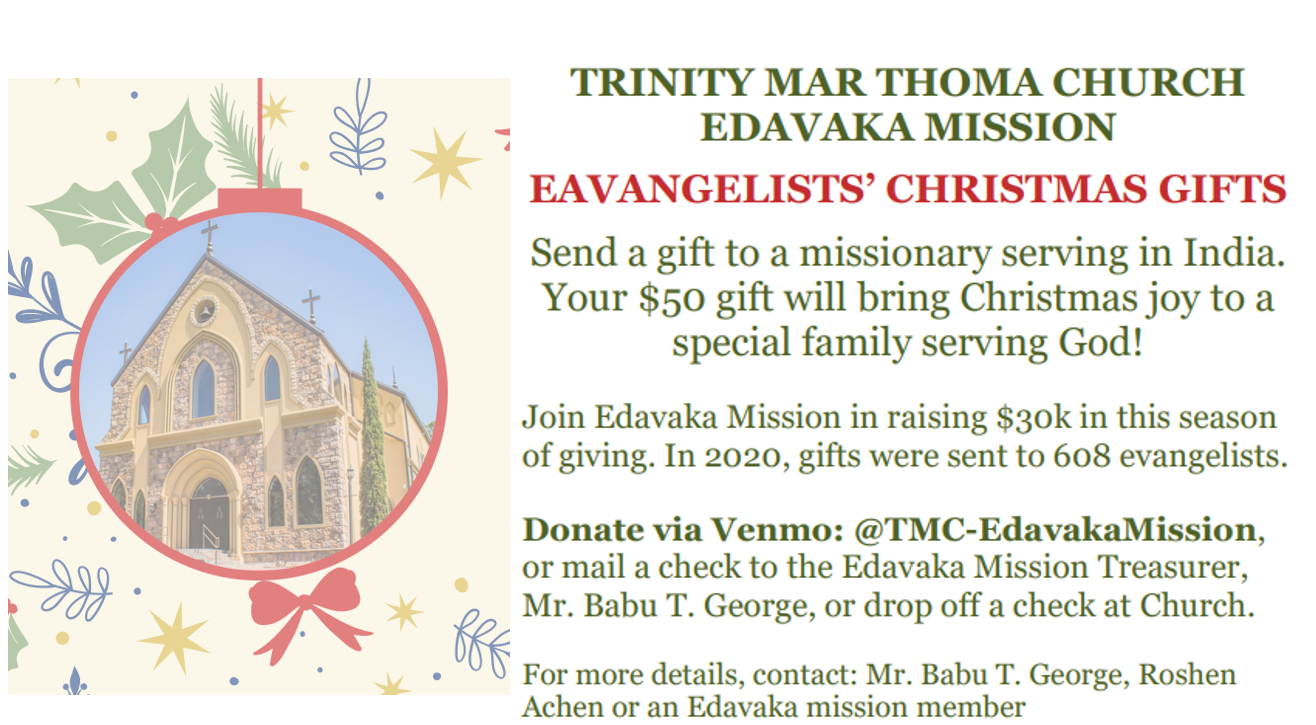 Evangelists Christmas Gift.
We are approaching the Christmas time again. A time for caring and sharing. For the past 15 years Edavaka mission was coordinating the Christmas Gift program for our Evangelists serving in various parts of India. The living conditions in various parts of India is getting harder due to the pandemic Covid-19. It is our duty to help the poor and needy. Jesus said "whatever you did for one of the least of these brothers of mine, you did for me" Mathew 25:40.
Because of the wholehearted support of our Trinity family, we could do this in the past years successfully and we are depending on our members to support the program for this year also. We are planning to give Indian Rs. 3,000 to each of our Evangelists which is close to $50.00 per evangelist with expenses. Last year we supported 608 Evangelists. We need to raise $30,000 for this project and we are requesting each family to support the project as you all did it in the past. You can support as many Evangelists as you like. There is no limit. Any amount of donation will be appreciated.
You can pay via Venmo (TMC-EdavakaMission) or mail a check to the Treasurer Mr. Babu T. George or bring it to the church. You can also see Achen or one of the Edavaka mission member for more details. God loveth a Cheerful Giver. Thank you all very much. May God bless us all.
We have collected $10,000 mark (and need to raise $20,000 more). All Trinity Family members are requested to join the program with your support small or large.