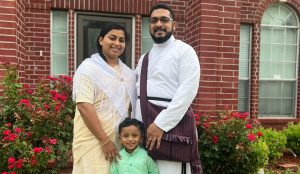 Rev. Jeevan John joined as the Assistant Vicar of Trinity MTC Houston in May 2023. He hails from St.Thomas MTC Varampore, near Venmony. He belongs to the Kochukaleekkal (കൊച്ചുകളീയ്‌ക്കൽ) Family. His father is Mr. John Thomas Koshy, and mother is Mrs. Annamma John.
Jeevan Achen is married to Merly Babu Kochamma, who is from Immanuel MTC, near Policodu. She belongs to the Chennelil Family. She is a B.tech CS graduate. Her parents are Mr. Babu George & Mrs. Jolly Babu. She has a sister, Bini, who is working as a pharmacist at KIMS Hospital, Thiruvananthapuram.
Achen & Kochamma are blessed with one kid, Master. Jeremy Jeevan John.
Achen did his college studies in Christian College, Chengannur & Sikkim Manipal University. He holds MA(History) and MBA(HR)and diplomas in Music and Theology.He did his theological studies in Leonard Theological College, Jabalpur,Madhya Pradesh. He was ordained as Deacon in June 21st, 2011 and ordained as Kassessa in July 7th 2011.
Parishes Served:
Ezhamkulam Salem MTC, Adoor.
Pattazhi Mottayckal Moria MTC.
Elikkattoor Zion MTC
Prayar Sehion MTC
Thymaravumkara Salem MTC
Andoor Jerusalem MTC
Andoor St.Peter's MTC